Romero ready for California Pro Figure Championships
by Allan Donnelly
May 20, 2009
FLEXONLINE.COM
Eight months ago, Felicia Romero entered the 2008 Figure Olympia with high expectations. She had every right to do so - in her first year as a professional, Romero placed in the top five in each of her first three contests, highlighted by a win at the Jan Tana Pro. So when Romero left Las Vegas after finishing outside the top 15 at the Figure Olympia, no one would have blamed her for taking time to dwell on her first disappointing outing as a pro.
Instead, Romero did just the opposite, choosing instead to go back to the drawing board and make the necessary improvements to be able to compete with the best in the world. Now, as she prepares for the California Professional Figure Championships, the 2008 FLEX Swimsuit cover model is more confident than ever.
WHAT: GNC California Pro Figure Championships
WHERE: Veteran's Memorial Auditorium, Culver City CA
WHEN: Saturday, May 24
TIME: Prejudging starts at 11 am PST; Finals at 6:30 pm PST
FOR MORE INFORMATION: www.musclecontest.com
COMPETITOR LIST
Huong Arcinas
Darlina Brown
Stacy Clary
Meriza DeGuzman
Andrea Dumon
Maria del Figueroa Consuelo Rojas
Heather Mae French
April Fortier
Celese Gonzalez Leandro
Nancy Georges
Heather Green
Yamanaka Kiyoko
Anna Larsson
Michele Mayberry
Petra Mertl
Leslie Morris
Hazal Nelson
Kirsten Nicewarmer
Nicole Pitcher-Scott
Felicia Romero
Zhanna Rotar
Tammy Strome
Masae Tagami
Kristi Tauti
Angela Terlesky
Waleska Valle
FLEX: You finished out of the top 15 at your last contest, the 2007 Figure Olympia. What did you work on after that show?
FELICIA ROMERO: I have mad a lot of improvements with my body. With the Olympia, I had done four shows that year. I just felt so depleted, I was just at my wits end towards the end of the year. But I'm kind of refocused and refreshed. After the Olympia I knew what I needed to work on and I brought up all those areas, especially my legs and my shoulders.I think people will definitely be surprised. I'm definitely bringing a whole better body to this show.
FLEX: Even though it was a disappointing finish, what did take way from your first appearance on the Olympia stage?
FELICIA: Just being up there with the best figure girls in the world, that right there just gave me confidence. And being in front of all those people and getting to experience that sort of thing, with all of those fans that came out. I didn't expect that at all. It definitely helped my confidence level and just kind of got me prepared for this year. This year, I definitely went in with a better attitude. I knew what I needed to do without adding all that additional pressure and stress, which can definitely weigh you down if you think about it too much. You just have to go with the flow.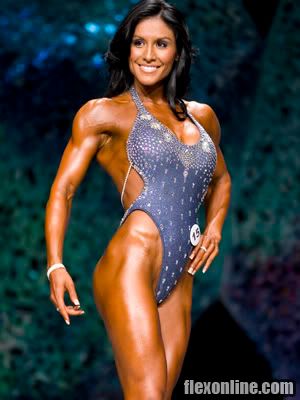 FLEX: Last year was your first as a pro. Now that you're a veteran, how has your attitude changed?
FELICIA: I didn't even really know what to expect. I think I put too much pressure on myself in the beginning with my body and with everything, just being new at it and new to the pro stage. This year I'm way more relaxed, I have a way better attitude. I'm just not as stressed out as I was last year. I feel like there's less pressure, I feel like there's less to prove. I just have to go out there with whatever I have and make the improvements that I need to. I took third here last year so I definitely want to come in placing that or better.
FLEX: Looking at the lineup for the California Pro Figure Championships, who do you see as your main competition? FELICIA: I definitely think Meriza [DeGuzman], she has a pretty good shot. She's got a hometown fan base. Heather Green I think has a pretty good shot. Andrea Dumon. Everybody in the lineup looks so great but those are a few names that pop out in my head that might give me a bit of a challenge.
FLEX: Make your case for why you win this weekend.
FELICIA: Why do I win? I really think I have the whole package. I really made the improvements that I needed to. They're going for a little bit less muscular this year, and although I did add a little muscle my body is at a better shape. I'm curvier, I have muscle in the right spots, I just feel like my overall package is better than it's ever been.
FLEX: Give me a prediction. Saturday night - where do you finish?
FELICIA: Truthfully? First. I truly believe that. I think if you think positively and ...not being overly confident, but if you think positive thoughts, positive things happen. I think if you think it hard enough and you want enough, it can happen. That's where I'm setting my sights.